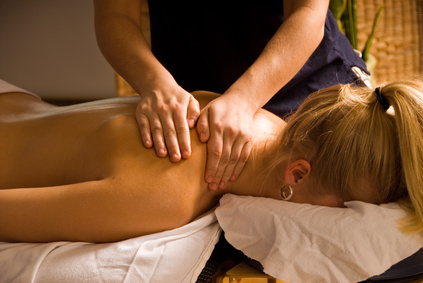 Aromatherapy massage is a relaxing, soothing massage using blended pure essential oils in the best carrier oils or creams and selected to suit your individual needs.

The aromatherapy oils add to the effectiveness of hands on massage which by the manipulation of the soft tissues of the body helps to increase blood circulation, ease muscular tension and improve skin tone.

Each essential oil has itís own unique aroma and therapeutic property and can be relaxing or stimulating, invigorating or sedative depending on your needs.

Essential oils are extracted from herbs, flowers, trees and fruit from around the world and have been in use for healing and physical and mental well-being since the ancient cultures of Rome and Greece.

The oils work through both absorption through the skin and inhalation and help the body to re-balance and promote health and well-being.

Aromatherapy massage can involve a complete treatment of the whole body. If however, you have time constraints, that particular part of you that needs the most attention, such as your back, if you have back tension or pain, can be focused upon.

We will tailor each treatment to suit your requirements on the day.

---